Turkish
In Travel
---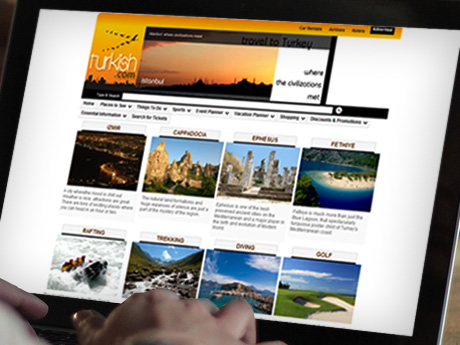 Project Details :
Skills:
Wordpress, jQuery, CSS3, Ajax
Url:
http://www.turkish.com/
Category:
Travel
---
Turkish.com gives compelling reasons to travel to one of the most historic civilizations in the world: Turkey. A comprehensive vacation planner and a to-do list from actual Turks are just some of the features that makes the site stand out.
Why go to Turkey?
Turkey is indeed among the top notch travel destinations in the world. It is a travel haven and a tourist hotspot all rolled into one.
Below are the top eight reasons why Turkey ought to be your next holiday stop:
1. Turkey is a Paradise. For sun and sea lovers, you will definitely enjoy the distinct climate and plush display of nature.The coastline and sandy beaches are beyond marvelous.
2. History. With the majority of archeaological sites, Turkey is extremely rich in history. Anatolia, for instance, is the birthplace of numerous civilization, historic figures, empries, and legends. Make sure to visit must-see sites during your stay in Turkey.
3. Shopping. Authentic carpets and memorabilia are just some of the most favorite items of tourists. Purchasing genuine Turkish products is made easier when you know which places to go.
4. Accommodation. There are numerous luxury hotels and inns in Turkey. Majority of these can be found in the Antalya region. On a tight budget? No worries because there are also inexpensive but beautiful accommodations available.
5. Food. If you are into the taste of Middle Eastern and Mediterranean cuisine, then you will definitely enjoy the flavors that Turkey has to offer. From the famous Turkish delight to succulent kebabs, it is no wonder that Turkey offers some of the best dishes in the world.
6. Outdoor sports. If you are into extreme outdoor sports such as parasailing, windsurfing, scuba diving, and mountain biking, then you have come to the right place. Turkey offers a wide array of nature sports perfect for those who want to make the most out of their vacation.
For more information, visit Turkish.com today!
Technologies
Wordpress


A well-known open source blogging tool and CMS that features a template system and a plug-in architecture.
jQuery


A cross-browser JavaScript library that is designed to make navigation of any document easier, create animations, develop Ajax applications, and more.
CSS3

CSS3 is the latest standard for CSS and is compatible with its previous versions.
Ajax


Clients are able to create asynchronous web applications that can send and receive data to and from a server without interfering with the display and behavior of a site.