Boston Dentist
In Health
---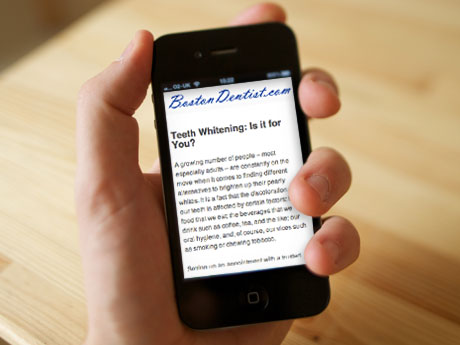 Project Details :
Skills:
Wordpress, jQuery, CSS3, HTML
Url:
http://bostondentist.com/
Category:
Health
---
BostonDentist.com serves as a directory for those who are in search of Boston-based oral health care practitioners. It also features a blog where dentistry-related information can be found.
At Boston Dentist, you will find the various components of the field of dentistry, including Boston area dentists & the top dentists in Boston who specialize in a number of dental procedures and treatments. You can find information about orthodontists, periodontists, as well as other dental specialists and their centers here in Boston. Within the site, you'll discover tooth whitening products and solutions, general dentists, specialists, tooth whitening, and many others. In case you are unable to get your teeth whitening or other procedure at a price you really can afford, you can search for a dental discount plan to meet your needs. Also, there are take-home teeth whitening solutions accessible without seeing a teeth whitening dentist for expert whitening or laser whitening. We have been reviewing several professional whitening systems and tooth whitening products so you can get a brighter smile at your home without visiting the dentist. Regardless of what you are searching for, we aim to assist you in finding a solution, be it a dentist in Boston who can deliver expert dentistry, or another solution say for example a dental discount program, dental product, or teeth whitening system.
We provide a wide array of informative articles regarding dental bridges, ceramic veneers, root canal therapy, invisalign tooth straightening system, composite tooth fillings, tooth whitening, dental insurance and dental merchandise for home. We're your one-stop resource kit for anything dentistry-related. Feel free to browse around the site.
Technologies
Wordpress


A well-known open source blogging tool and CMS that features a template system and a plug-in architecture.
HTML


A fundamental technology of the Internet used for organizing and presenting content for the World Wide Web.
CSS3


CSS3 is the latest standard for CSS and is compatible with its previous versions.
jQuery


A cross-browser JavaScript library that is designed to make navigation of any document easier, create animations, develop Ajax applications, and more.